---

Fun
Stuff:
Portraits
by ME !
---
January 16, 2017 Update
---
I.T. - The Secret World of Modern Banking #1
Motion Comic Trailer for issue #1 !

HI-RES trailer version!

From new independent comic book publisher
BlackBox Comics
---
ZAHARAKIS - Creator
MCDANIEL - Writer/Penciller
OWENS - Inker
GONZALEZ - Colorist
ESPOSITO - Letterer

#1 on sale March 8, 2017 !
---
| | | |
| --- | --- | --- |
| | | |
---
THE COMMISSIONS LIST IS CLOSED !!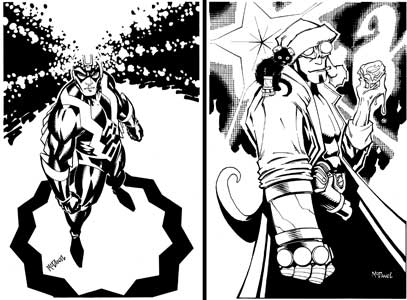 Commissions are great fun, and I love creating them!

If you've already emailed me about a commission, and I haven't yet responded - DON'T WORRY! You're in the queue, and I will reply as soon as I can catch up!
---
When I first came on-line several years ago, I was simply inundated with questions from aspiring comic book artists out there concerning just about every aspect of this business! Believe me -- I remember the feeling! I was in your shoes about 18 years ago!
When I was an aspiring artist, I was very blessed by God to have a great friend (Glenn Herdling) who actually worked at Marvel! I remember the incredible value of all the advice I was given from him and from editors and other professional artists working at that time with him.
When I finally made it into comics, I promised myself that I would help as many aspiring artists as I could -- a way of passing that blessing on to others. Thanks to the internet, I can -- and HAVE -- passed that information on to THOUSANDS of aspiring artists!
Who knows... in a few years, YOU could be in MY shoes!
This web site is focused on my work and my faith in Christ -- and I hope you have a lot of fun wandering around all of the areas of the site!
---